2022 Season High Quality Functional Fabrics / Delivering the New Concept of "Fitness Tribe"
As consumers begin to seek a new level of comfort, the core items for Spring/Summer 2022 will reflect the changes from the post-pandemic era. With the rise of multi-sport activities and the popularity of at-home fitness, consumers are expecting styles to suit their rather mobile lifestyle.
The lifespan of products is increasing and consumers are looking for products with durable and unique fabrics. Health remains a priority, with natural fibers and technology receiving attention.
The new trend of fitness tribe sees an increase of exercises in sports, such as yoga, running and cycling, exploring their origins with a theme of nature and slowing down and being mindful of lifestyles, to embrace the new trend of fitness.
Wanlihong Textile has something to say:
We are not only the carriers of fashion, but a fashion guide the future.
The next stop is to take you into the new fashion of sport!

Fragmented Sports
We aim to get rid of the restrictions of being designed only for sports and fitness and to create an adaptable style for the home center that can be switched between sports recreation and work. The fabric is made from polyester and spandex. Spandex with good stretch, shape retention, and good wrinkle resistance, does not degrade easily and is easy to care of.
Sports Luxury
The new Sport Luxury athleisure and Sportswear translates the latest fashion trends into luxury sportswear and streetwear for the women of many faces. A sports luxury aesthetic is created through a sophisticated and stylish approach to sportswear for the everyday life of women. Shiny fabrics with healing and anti-bacterial qualities are highly sought after, enhancing the luxury sports glamour of S/S 2022.
The Trend of Yoga
What the eyes see is the aesthetic attitude of fashion haute couture, and what the body feels is the pursuit of professional technology. You will have a lighter, more enjoyable and more comfortable exercise experience in the double comfort of Wanlihong Textile, and enjoy every part of your transformation. Our high quality fabrics are fast drying, strong shaping, no pilling and no deformation.
Nostalgic Style
The asymmetric cut-off shape meets the consumer's need for a versatile product with a matte smooth fabric in a dry hand feeling. Its moisture-wicking quality keeps the fabric sweat-free and smooth for long periods of time, giving it a sporty feel without compromising on sophistication. It is also ideal for summer styling. The playful asymmetrical design is a nostalgic take on the 80s gymnastics revival, echoing the desire to escape reality.
Healing
This almost invisible flat knit is like another layer of your skin, will be the lightest fabric of this summer, durable yet light to the touch. Moisture-wicking and anti-abrasion. The knitted construction will make the silhouette more attractive, adding stretch and adaptability while avoiding bulkiness.
The hoodie brings a relaxed aesthetic to layered sportswear and is versatile enough to be worn for sports, leisure and casual wear. The sheer fabric provides a draping style and is very inclusive.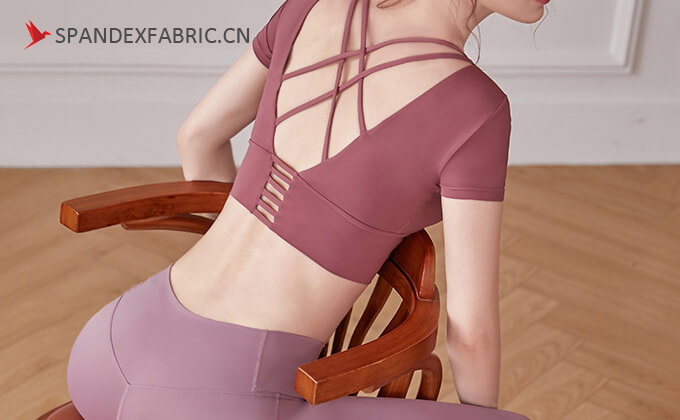 This season's fabric collection takes its idea and creates a structural heterotopia in which the garments are shaped, deconstructed and reorganized in different materials and details to present a different look in each state of time and space. Variable structures, flowing drapes and fluid fabric features allow the same garment to take on different shapes, both dynamic and static.