Fluorescent spandex fabric, also called neon spandex fabric, is the fabric made from spandex fiber and polyester, nylon, cotton or other fiber and dyed in fluorescence dye, which can strongly absorb the visible light and radiate the fluorescence.
The fluorescent spandex fabric has a shiny reflection and special attractive color. This kind fabrics are gradually having bigger market.
I. The fluorescent dye in the textile industry
fluorescent brightener
disperse fluorescent dye
fluorescent paint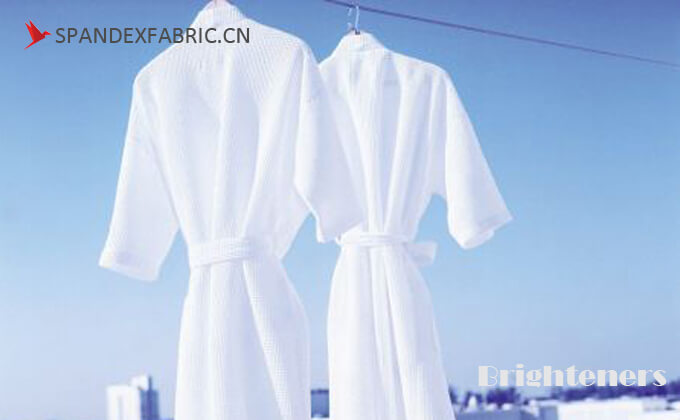 Brighteners have been widely used in textiles, paper, detergent, soap, rubber, plastics, paints and so on.
Dispersed fluorescent dye has small molecules and the structure does not contain water-soluble groups. It can disperse into the interior of the fiber by the dispersant. The Fabric should be dried instantly after dyeing then go on hot melt process. The dye deposited on the fabric can diffuse into the interior of the fiber by a single molecule under the high temperature. Dyeing can be finished in a short time.
Fluorescent paint attachs to the fiber surface by padding and then help paint the fiber surface fixation through the adhesive resin components, which can increase the degree of color fastness. Due to the resin contained in the adhesive effect, the fabric will feel hardened.
II. fluorescent spandex fabric
Fluorescent fabric is the general fabric in the process of fluorescent staining or coating finishing with a strong reflective effect of the fabric.
The fluorescent fabric can make the target get a strong reflection of light, even in the dark and far way, which can play a good warning and safety precautions.
fluorescent spandex fabrics are widely in all kinds sportswear, cycling wear, swimwear.
The advantage:
Bright and gorgeous color
Reflection function
The disadvantage:
The colorfastness is not perfect
The price is high
Some dye factories have no the technical support and experience, which may give rise to many problems to the final products.